Nile families lose homes to the landslide, others face serious damages
Posted:
Updated: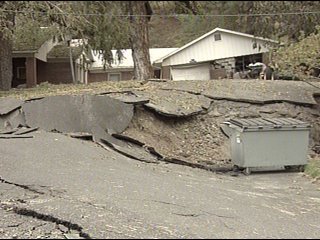 NILE, Wash.- Clean up is underway after a landslide forced homeowners to evacuate this weekend. The landslide caused the Naches River to move, flooding and damaging many homes.
Steve Smith is trying to pick up what's left of his home Monday. He's moving boxes, checking his shed and jump-starting his car. His home is completely covered by the rockslide. It was buried somewhere under the rocks.
"It's hard losing your house and then having to keep helping the valley but its keeps my mind off things," said Steve Smith, who lives in Nile.
Smith and others live in Nile and work for the ranger station. So while they're helping their neighbors, they are also trying to recover whatever is left. For many, that's still up in the air.
"We got our days and horses out but by the time we went back it was history we couldn't get our stuff or anything," said Kimberly Lynn Jensen, who lives in Nile.
The rockslide pushed the river. So while Jensen's house was not hit by the rocks, it is completely under water. Still, she considers herself lucky.
"Luckier than some because there's about 500 people up there that can't go anywhere," said Jensen.
That's because the roads are so damaged. With large cracks, curved asphalt and bumps in the roads it is impossible to travel through.
Jensen says she still can't believe what happened.
"We really didn't expect it to do what it did, it came down fast, I don' think I've ever run that fast," said Jensen.
Luckily, there are no reported injuries. Neighbors say they will continue cleaning up their community and helping each other out until things get back to normal.