Alex and Taylor's Memorial
Posted:
Updated: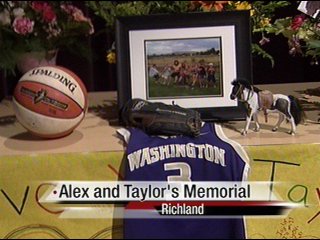 RICHLAND, Wash. - It was an emotional day for family, friends and people of the community as they remembered Alex Hatley and Taylor Tefft. Alex and Taylor were killed in a tragic car accident last week on I-182.
Today, a memorial took place for the girls at the Hanford High Commons. The memorial took place in the auditorium but opened up the cafeteria because of the high turn out. During the memorial, family and friends shared happy stories of the girls and said prayers while showing pictures. The theme today was "Be thankful for your family, you never know how it could change." Alex and Taylor were cousins and only a few months a part, Alex was 12 and
Taylor was 11.
Sarah Sanders is a relative of the girls and says the family is grateful for the turnout. "It went really great. I know the family is very grateful for all the support that was shown here. We were really surprised at the amount of people that showed to support us. We'll miss them, we love them and that's all. We miss them and love them," said Sanders.
Alex and Taylor enjoyed playing sports and both had a love for music. Fundraisers to help the family with medical bills will be going on for the next month.
October 14: There will be Goblin Insurance Agents available to sell you a policy at Yokes in Pasco on Wednesday from 4 pm to 8 pm. Look for a table inside the store lobby.
If you can't make it to Yokes, look for agents selling policies door to door.
100% of the funds raised from this event will go the Tefft and Woodall families.
October 15: CJMS Choirs will present their Fall Concert this Thursday beginning at 7:00 p.m. in the CJMS Auditorium. Students have decided they would like to dedicate this concert to Alex and Taylor and honor their families with offerings of music. Donations for the Woodall-Tefft families will also be collected.
October 17: CJMS PTA sponsors a Pancake Breakfast Fundraiser at Richland Applebee's (near Winco) Saturday from 8am-10am
A portion of proceeds will now be donated to Alexandra Hatley and Taylor Tefft's families.
Tickets available at the door, or from any PTA officer, or in the school lobby before school.
Tickets $7.00 per person
A donation box for the families will be at the ticket sales table outside Applebee's in Richland.
October 17: Hansen Park Garage Sale
Time: 8:00am-2:00pm
Location: 8516 W. 1st Avenue, Kennewick, WA 99336

October 20: Cable Bridge Poker Tournament
Time: Starts at 7:00pm
Location: Cable Bridge Casino

October 23-25th: Park Hills Yard Sale
Time: Starts at 8:00am
October 24, 2009 Elite Center Chili Feed
Time: 5:00-8:00pm
Location: Christ the King Church

October 25: Branding Iron Spaghetti Feed & Silent Auction
Time: Beginning at 4:00pm
Location: Branding Iron
Price: Children $5.00
Adult: 10:00

November 1: Canyon Lakes Golf Course Golf Tournament
Time: 1:00pm
Location: Canyon Lakes Golf Course
Price: $100.00 per player (4 players per team)
Chili and Corn Bread will be served in the banquette room

November 7: Poker Tournament
Time: Registration at 12:30pm, Tournament starts at 2:30pm
Location: ESPO's Sports Bar and Grill in Kennewick
Price: $10:00 entry fee