Scientists Assess Impact of Land Slide
Posted:
Updated: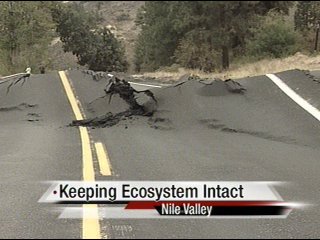 NILE VALLEY--The landslide on State Route 410 has sure caused a lot of trouble for people, but what the affects on fish and the ecosystem?
Geologists and biologists have been analyzing the slide and it's possible affects all week.
The landslide hasn't just destroyed homes and derailed roads, it's threatened life in and around the Naches River.
Pictures taken Sunday after the slide show fish stranded on the now-dry riverbed.
But, if this slide was unavoidable, biologists say right now is probably the best time of year.
"The spring chinook have already migrated through this area and most of them have already spawned, laid their eggs and have already died well above this site," Perry Harvester, Department of Fish and Wildlife, said.
The new channel should be completed by the time other fish migrate through the Nile Valley.
The rock slide may even make the Naches a more fertile breeding ground for fish, but the situation we have today could easily change.
"We don't know where that river is going, we don't know what's going to happen next," Joye Redfield-Wilder, Department of Ecology, said. "There's the potential that there could be more flooding, there's the potential there could be another slide."
That's why the Department of Ecology is urging people in the floodplain to check their homes for chemicals like paint, oil or pesticides and move them to a safe place or get rid of them.
The slide and flooding aren't expected to have a negative long-term impact on the environment. But, if hazardous chemicals are added to the mix, it could be a totally different story.
While construction crews made a channel to divert the river enough to get a temporary road built, in the long term the Naches will decide where it runs, and people will just have to adapt.