Landslide hitting businesses in the wallet
Posted:
Updated: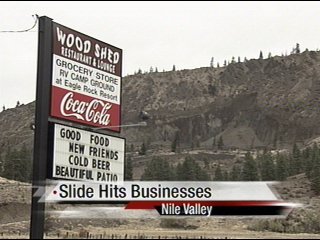 NILE VALLEY--When your customers can't get to you, it's hard to make a sale. That's what businesses cut off by the landslide are finding now.
The Woodshed is just down the road from the slide. Since the mountain came down on Sunday, this has been the place to go.
"Everybody knows you can come here and find out what's going on," Larry Wammock said. He lives across from the Woodshed, on the other side of State Route 410. "Anything that's changed you can find out about it here."
State troopers evacuated the restaurant Sunday with food still on customer's tables.
But by Monday morning, they were back to work.
"People just need that connection, and they need a familiar, warm place to be."
The wood shed is the last business before the slide blocks the road. Some other places weren't so lucky.
To get to Whistlin' Jack Lodge, normally you would go down State Route 410 for about 21 miles from the junction of 410 and Highway 12. Of course, that's no longer an option. So to get there, you have to take Highway 12--a 93-mile detour and an estimated two hours out of the way."
Winter hasn't hit Whistlin' Jack just yet. But, the lodge needs access from the east before the snow starts falling.
"It's really important [to have an open road from the east,]" Shane Williams, one of Whistlin' Jack's owners, said. "We need a more stable and bigger road able to handle more traffic back and forth. There's always the danger of big weather on Chinook Pass and having that pass closed. Then we'd be landlocked for sure."
Many people canceled their reservations this week rather than go around. But Williams expects the detour won't deter people coming up this weekend when deer hunting season kicks off.
"Once some traffic is allowed through we'll be fine," he said. "People just want to get out. I'm pretty optimistic that [business] will come back pretty quick."
At the Woodshed, they're hoping for the same thing hope that's the case.
Royster thinks this resilient community will move on.
"People up here don't let things like this stop their lives."
So far, they're serving fewer people early in the morning and late at night, but it hasn't had a major impact on business.
The big test is coming up, when hunters either head up or stay home.