Grape growers survive this harvest's unpredictable weather
Posted:
Updated: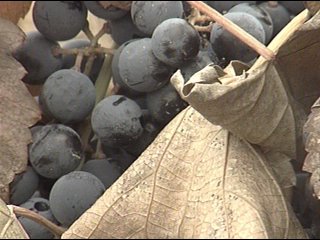 ZILLAH, Washington.- Grape Harvest is well under way and growers say their crops survived the extreme weather conditions this season.
Workers are staying busy, cutting bunches and picking as many grapes as possible. This year's unpredictable and unusual weather was the challenge...but growers say, they've survived the hardest part
"It was early to start but then an early cold streak at the same time so from a harvest standpoint it just kind of kept you on your toes a little but," said Matthew Rawn, the Co-Owner of Two Mountain Winery in Zillah.
"Here we are in October still working its been an interesting year to say the least," said Pat Dineen, a nearby Grower.
Growers say the 29-degree weather seriously threatened the growth of their grapes. Luckily, it only lasted a few days, and the grapes were already ripe when the leaves froze over.
"The grapes stop producing sugar at that point in time they've stopped developing they are kind of where they are," said Rawn.
Now that the freeze is over, growers are focusing on crushing their grapes. They're using machines to produce as much wine as possible.
The owner of Two Mountain Winery says they plan on bottling 55 tons of wine. While customers' buying tendencies are changing these days, the demand is still high.
"Instead of buying a $30 bottle they may be buying a $25 bottle so we've noticed a different in higher end stuff but all and all things are okay, better than we anticipated," said Rawn.
With good quality grapes and a large crop, Rawn says they're expecting to make as much if not more than last year. Workers will continue picking grapes for another week or so. After that, they'll be busy filling bottles.