After-school program gives students support and place to be
Posted:
Updated: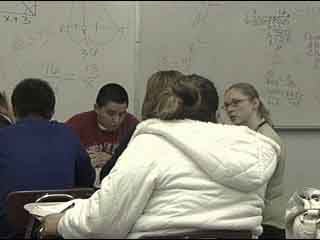 ZILLAH--Yakima County's gang problem is well-documented. One potential solution frequently brought up are after-school programs.
The 21st Century program is offered at schools all over the valley. While it's mainly for kids struggling in class, students I talked with say it offers an escape from a troubled lifestyle.
Maria Marquez grew up in Sunnyside, at times hanging out with a rough crowd.
"People [would be] waiting for someone else to come outside and fight," Marquez, who now lives in Zillah, said. "Or they were just yelling at each other, a lot of fights."
Sometimes, that meant seeing some dangerous stuff.
"Cars would pass with people yelling things out," Marquez said. "I'd be there scared, [thinking] 'I shouldn't really hang around with them.' But I'd still be there."
She's left those friends behind. Now, she's one of 4,300 kids in the Lower Valley involved in 21st Century, an afterschool learning program that offers tutoring, guidance and support that many don't get anywhere else.
"We're just trying to promote kids to have a place to go," Program Coordinator Justin Irion said. "That way they aren't getting into trouble and there aren't those boredoms at home."
But, when some kids hear the word school, they're not interested. Instructors work to show students this isn't a normal class.
"Once we cross that bridge with them and let them see the light that this is a fun thing to do and a good thing to do, we do get a good following."
21st Century even brings parents together with their kids to make learning a family experience.
As for Marquez, she's no longer worrying about what trouble her friends might drag her in to.
"I'm there, I'm actually doing my work, I get the help I need and it's fun!"
This after-school program is offered at almost every school in Yakima County, and there aren't any requirements to participate. Students just have to ask.
21st century is put on by the Northwest Community Action Center.
NCAC is inviting everyone in the community to the Clarion Hotel from 4:00 - 6:00 p.m. Thursday evening to discuss after-school activities and how to keep kids in class and off the streets.