It's final: the City of Yakima is covering log mill fire costs
Posted:
Updated: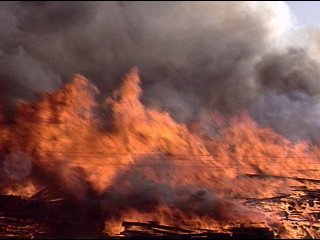 YAKIMA, Wash.- After much talk, it is final the city of Yakima will end up paying the costs to fight the log mill fire. City council members announced they're not going after the property owners for the costs.
The day it happened, the only concern was putting it out but that quickly changed to who will pay.
After almost a month, Mayor Dave Edler announced the decision at Tuesday night's council meeting.
"We will not be seeking reimbursement from Dunollie Enterprises for fire costs," said Edler.
This wasn't easy. After the fire, tax-payers questioned who would pay for this and wanted Dunollie Enterprises to be held financially responsible. Legally, the costs fall on the city.
"There's just not a specific state law that would allow a city to do that so that is the main reason we're not pursuing reimbursement from Dunollie," said Randy Beehler from the City of Yakima.
City council members say it's also unfair to single out this one fire when they respond to fires started by human error all the time.
"You've got people out there that will casually drop a cigarette or falling asleep while smoking and their house will burn down and the city has to go put it out. We don't charge for that. Should we? Ya sometimes it makes you upset and you wish you would but that's the cost of doing business," said Councilman Rick Ensey.
Dunollie Enterprises is not off the hook. They'll pay for the fire watch, that's $17,000 to have firefighters patrolling the area for two weeks.
As for safety concerns? Council members say their worries are gone.
"City staff cracked down and did a good job and the property owners realized they had an issue on their hand and I think they fixed it," said Ensey.
Council members are working with the fire department to ensure codes are followed, making sure another fire like this doesn't happen again.