Proposition 1 would help Franklin County jail; but voters will decide
Posted:
Updated: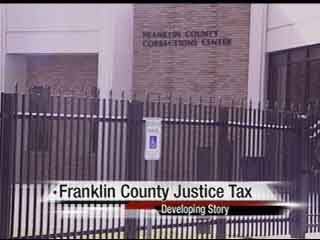 PASCO, Wash.-- It seems like spare change.
"On a 500 dollar purchase it'd be a dollar and a half," says Franklin County Sheriff Richard Lathim. "On a hundred dollar purchase we're talking 30 cents."
The Sheriff says it could go along way to keeping us safe. Only a couple decades ago, Pasco had one of the worst crime rates in the country. Now they face that fear again; their jail is just too small.
"We're in desparate need of additional jail space so we're trying to meet that need for our growing community," he says. "And keep the safe environment and the good reputation that we've developed here in Pasco, Franklin County as we continue to grow here as a community."
The Sheriff says the jail is maxed out at one hundred beds. If Prop 1 passes, sixty percent of funds will go to the department. Most of that towards an addition to the jail, adding hundreds more beds.
The tax would be a sales tax-- less than half a percent.
"So immediately the tax sales tax will be increased by that .3% so in the unicorporated areas of Franklin County [it would go to] 7.7 to 8 percent. In incorporated areas of Franklin County it'd go from 8.3 to 8.6 [percent]"
But some voters aren't convinced. They say it's clear-- no new taxes.
"If they raise the taxes that's too much tax raising already," says likely voter Nora Garcia of East Pasco. "We got enough taxes being raised on property for school all this other stuff and our value of our property's in the Tri-Cities from what I understand is down so do we really need another tax raise?"
The Sheriff's department says revenue raised from the proposed tax would be just over three million dollars per year. Money not going to Franklin County would be split to law enforcement departments in towns in the county like Pasco and Connell.