Families and friends remember victims after deadly car crash
Posted:
Updated: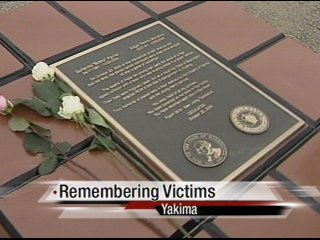 YAKIMA, Wash.- Three years ago, Blake Young eluded police in a high-speed chase that ended in a deadly car crash, killing two young men and seriously injuring another.
Family, friends and city leaders gathered to remember the victims and officially dedicate this site to them.
It all started after Blake Young stole a car and eluded police. This turned into a high-speed car chase, where Young and police were driving up to 80 miles an hour on city roads.
This all ended when Young ran the red light at Nob Hill Avenue and 48th Avenue, crashing into a car and killing Guillermo "Bobby" Aguilar and Edgar Mendoza. For their families, being at that intersection again was difficult to do.
"It's a memorial for two young men that lost their lives, my son, who will always be in my heart and I just miss terribly," said Ana Lucas-Garcia, Aguilar's mother.
"It's important that they remember that an accident occurred here that took the lives of two young men that had nothing more that day than to go play basketball," said Yakima Police Chief Sam Granato.
Blake Young was sentenced to 36 years in prison last spring. Now, family members of the victims have filed a lawsuit against Young, the City of Yakima and the Yakima Police Department. Their reasoning? Family members say if the car chase hadn't continued and Young and the police weren't driving so fast, their sons might still be here.
We'll be posting a copy of the lawsuit shortly.