County fire departments primarily volunteer force stretched thin
Posted:
Updated: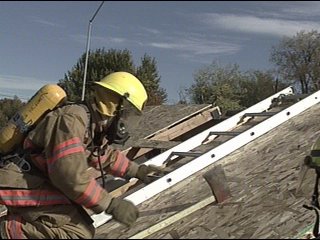 YAKIMA--Almost any firefighter will tell you that volunteers are the backbone of the department.
But, at many stations that backbone is weakening.
More than 80 percent of fire coverage nationwide comes from volunteers. With winter coming, firefighters say we'll likely see more structure fires. But, in many communities, there just aren't enough people to answer the calls.
Volunteers provide crucial support to fire departments, but with volunteer numbers cooling, pressure is heating up on everyone else.
"We depend on the volunteers to cover our stations at nights and on the weekend," Lt. Tyler Abhold said, Yakima County Fire District 4 [East Valley]. "If we don't have those numbers, the people that are there have to make sure they show up to every call and wake up at all times of the night."
East Valley firefighters showed new recruits the ropes during a training session Saturday, but recent turnouts haven't been promising.
"Three or four years ago we got upwards of ten [new volunteers]," Abhold said. "This year we're working with four. It's hit and miss, but it seems to kind of be progressively getting worse."
East Valley's gone from roughly 60 volunteers to 45 in the past few years.
At Fire District 5 in the Lower Valley they've gone from more than 300 in 1983 to about 180 today.
Abhold admits, firefighting is not an easy job. It takes about three months of training, twelve hours a week, to become a firefighter.
To new recruit James Smith, a pastor in Zillah, the reward makes this time well spent.
"The people that you can help and how you can impact their life, I said, 'yeah, this is what I want to do,'" Smith said.
Once you're certified, you just have to go on a few calls and attend two training exercises each month.
Some stations, like East Valley, even pay volunteers a small stipend for their help.
Many current volunteers are nearing retirement age so numbers will probably keep declining.
Most departments have an open door policy when it comes to volunteers.
No matter your age or physical skills, they can find a role for almost everyone.