Yakima County has 6 homicides in the last 30 days
Posted:
Updated: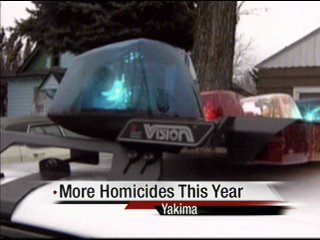 YAKIMA, Wash.- Yakima County had six homicides in the last 30 days, five of them were in the City of Yakima.
October is an unusually busy month for law enforcement this year. With the number of homicides growing, people in Yakima say their concerns are too, so much, that some people are scared to walk around.
"Was scared to walk 5 blocks to her location so I went over and picked her up and drove her because she was only a couple of blocks from the shooting and she was very, very scared," said Gene.
There have been six homicides in Yakima County in the past 30 days. One in Sunnyside, the other five were in Yakima, going from North 5th Avenue to North 7th Street. While shootings aren't unusual in these neighborhoods, the high number of homicides is.
"It's alarming when you have that in that period and its heating up, that's the scary part, its not leveling off we just keep getting busier and busier," said Yakima County Coroner Jack Hawkins.
Yakima County Coroner Jack Hawkins says all but one of the last five homicides were gang-related. He adds it appears shootings are more intentional.
"It's more like they're hunting for them, scoping them out and they're waiting for them," said Hawkins.
From the coroner's records, the number of homicides this year has passed the number of homicides in all of 2008. Hawkins fears this number could keep going up.
All the recent homicides are still being investigated.