Yakima police search for suspects in two armed robberies
Posted:
Updated: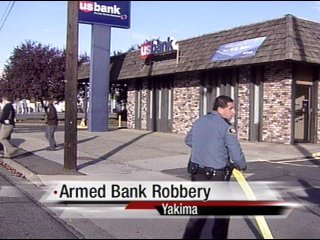 YAKIMA, Wash. -- Police are looking for a man who robbed the US Bank on Fruitvale Tuesday morning. They're also searching for a man who robbed Barton's Pharmacy Monday evening, the two suspect descriptions are similar.
Walking into work this morning bank employees received the shock of their lives. A bank robber kicked open the back door and followed them inside.
"When he entered the bank he had the hood down, but when he got up to the area of the tellers he pulled the hoodie up over his face," said Capt. Greg Copeland, Yakima Police Department.
The suspect showed a hand gun, demanding money. He forced the workers into the bathroom and tried to tie the door shut. Employees couldn't see him leaving, but nearby witnesses thought they saw someone leaving in a car.
The suspect is described as a black male, mid 20's with some facial hair. He was wearing a gray hoodie, khaki shorts and dirty "burnt orange" colored shoes.
The whole robbery took place in the back part of the bank, so the suspect was never caught on security camera. It's not the first time this bank has been robbed, Copeland recalls several robberies within the past five to ten years as do people who work in the area.
"I don't remember if it was at gunpoint, but it was robbed," said Jon Sink, nearby business owner.
Police are also investigating an armed robbery from Monday night. A man stole narcotics from Barton's Pharmacy on West Spruce Street, he showed a hand gun and gave the clerk a note demanding the drugs.
"It's always unusual when we have a couple robberies in a row, especially with the same description, but again it remains to be seen if its the same person or not," said Copeland.
Police are still unsure if the two robberies are connected, but in both cases the suspect was armed, so if you see anyone matching the description above call YPD at 575-6200.