More construction thefts in Kennewick
Posted:
Updated: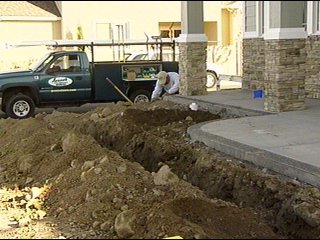 KENNEWICK, Wash. -- Building materials are stolen from a construction site in Kennewick, continuing a string of construction-related thefts. Lawn mowers and copper wire have been stolen, and a model home was also broken into.
This latest theft lead to the arrest of two brothers after police say they stole materials from a home that's currently being built on the 2000 block of South Harrison Street.
Sergeant Ken Lattin with the Kennewick Police Department said, "fortunately we had an alert neighbor who saw an unfamiliar truck at the construction site, and people loading up new lumber and insulation and instinctly got his camera out, took some pictures for us, and then called the police right away."
Unfortunately, Sgt. Lattin says this type of theft happens all too often, especially at homes that are under construction. "Many times materials are delivered, next day the contractors can start working on them and there's no way to lock them up," explained Lattin.
Jackson Hammons is a plumber working on a home in the same neighborhood. He says they try to lock everything up when they can. "Everybody comes through and we lock every door and everything is pretty much secure, but you can't stop a common thief. If they want to get in, they will," said Hammons.
And in case those thieves do get in, Hammons and the other workers also keep an eye out for each other.
Kennewick police say they have no reason to believe this theft is connected to any other recent ones.