Cuts to Yakima's legal department has city attorneys overworked
Posted:
Updated: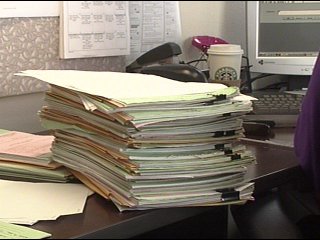 YAKIMA--Budget cuts could further erode the city prosecutor's office. The bottom line? Some people may get off without a trial.
Yakima's legal department lost two positions and thousands of dollars in th 2009 mid-year budget; now, it could lose even more.
Senior Assistant City Attorney Cynthia Martinez tells KNDO that city prosecutors handle more than 2,300 cases per year, four to six times the amount suggested by a 2003 American Prosecutors Research Insitute study.
Simply put, it's just too much work for four prosecutors, leading to some tough decisions on what cases to focus on.
Recent emphasis patrols did their job. Police put more suspected criminals in jail.
But, that's just the first step in the legal process. The city's prosecutors have to make sure they're properly punished.
"If people are arrested and then ushered back on the streets because the caseload of our prosecutors is too heavy I'm very concerned about that," Yakima Mayor Dave Edler said. "I think the citizens should be concerned about that."
Edler and the rest of city council are just now seeing the alarming figures.
The legal department lost an attorney, a prosecutor and a legal assistant in the last year.
Unlike some other places in the budget, less isn't more. That prosecutor handled more than 1,700 cases per year. Those cases don't just disappear. Rather, they're divvied up among the four remaining prosecutors, resulting in an astounding 2,312 cases for each attorney this year. That study by the American Prosecutor Research Institute suggested prosecutors only handle 400 to 600 cases in a given year.
In Yakima, that's just not possible. Martinez--the city's head prosecutor--and her colleagues have to do more with less.
"The work is still coming in and we're still expected to do it," she said. "You can't say, well we're not going to answer that lawsuit, we're not going to prosecute that DUI crime."
One of the biggest pressures at the city level is the timeline for justice. Cases must be resolved quickly.
"The [cases] have a short life," Martinez said. "We are required to bring someone to trial within 90 days of filing the charge."
If the defense doesn't grant an extension, cases are dismissed after 90 days.
Martinez said time restraints haven't become a problem yet.
Unlike the county prosecutor's office, which has battled a backlog for the past several years, city prosecutors aren't facing a backlog. To ease their burden, the county declines to take on as many cases as in the past.
While city attorneys only prosecute misdemeanors and gross misdemeanors, if county prosecutors decide a case isn't worth felony charges, it can fall to them, putting even more on their plate.
"We don't really have a backlog it's just that we have a limited amount of time to work on those cases," Martinez said. "If you're only in your office two days a week [city attorneys are typically in court three days each week] it is difficult to work those cases."
With limited time and resources, the city's attorneys must choose which cases to focus on and even consider dropping charges in some situations.
Two compromises the city won't make: DUI and domestic violence cases remain the legal department's top priorities.