New one of a kind plant in Pasco
Posted:
Updated: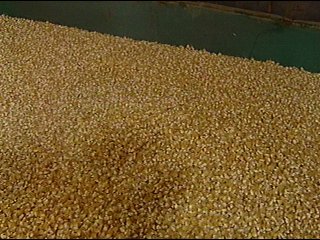 All is quiet today at the Syngenta plant. When it's up and running drying out seeds. It's almost too loud to be in. But today a tour of this revolutionary plant that can fine tune temperature and humidity, making each seed close to perfection.
"The biggest impact is gonnna be on the number of seedlings that actually germinate as well as the uniformity of those seedlings as they progress through their growing cycle," says Tim Primus, Head of Vegetable Supply Chain, Seed Division for NAFTA.
Syngenta is a world wide company and looked at over forty locations for the plant. They chose our back yard for reasons we've heard time and time again.
"The columbia basin ends up being a really good production area for a variety of reasons," says Dan Burdett, president of Syngenta's Seed North America. "There's really good fertile soil here we have good access to water out of the river you don't have to depend on snow melts like in other parts of the world."
Syngenta has been operational since May and just finished their busy season, taking in fresh corn to make super seeds for farmers. At times all told they employ over one hundred workers.
"It's creating jobs for people; employment," says Mayor of Pasco, Joyce Olson. "But most importantly its adding value to agriculture our economy here in Pasco and in fact in the state of Washington is really dependent on agriculture. It's really the base of our area."
In addition to drying out corn for seeds, syngenta also process other seeds for vegetables, including those new my size watermelons. Syngenta invented them and this new plant in Pasco will mass produce the seeds.