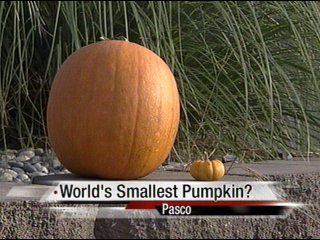 PASCO, Wash. -- Every October there is national media coverage on who grew the largest pumpkin, some of those weigh in at over half a ton. But what about the smaller pumpkins? Who grew the smallest? Our own Jordan Youngs thinks he did.
As he was cleaning up what was left of his garden, he found a special pumpkin growing amid the mini pumpkins he planted.
Jordan grew all different sizes of pumpkins this year; big ones, medium ones, smaller sized ones and minis. But a mini-mini pumpkin caught his eye.
He says the pumpkin is considerably smaller than a tennis ball and just a bit bigger than a 50 cent piece. (See attached video for demonstration.) So Jordan ventured to the post office to get an accurate weight. The official weight of his mini-mini pumpkin? 2.3 ounces, about 1/8 of a pound.
Jordan then went to Bob Brown, a master gardener with WSU Tri-Cities. Brown has been gardening his whole life.
"This is the smallest pumpkin you've ever seen?" asked Jordan.
To which Brown replied, "yes, it is. This is the smallest I've ever seen, so you have a real winner here."
And as far as Jordan knows, it's the smallest one out there, and he has an expert's endorsement.