Trial continues for teacher accused of sex with 12-year-old
Posted:
Updated: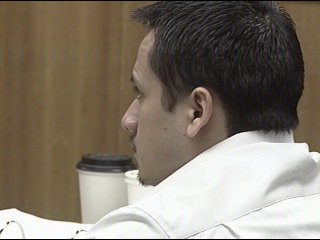 YAKIMA--Jesus Vega Barcenas used to teach at Adams Elementary in Wapato. The 28-year-old accused of having sex with one of his 12-year-old students. Now, his trial is underway.
The alleged victim, now 14, took the stand Thursday at the Yakima County Courthouse, giving very graphic descriptions of the acts she and Barcenas purportedly engaged in. The young girl was very calm throughout.
The accusations stem from incidents that allegedly started early in the 2006 school year, when the girl was an 11-year-old fourth grader and Barcenas a 5th grade teacher.
The alleged victim told the jury how their relationship began with kissing and touching in his classroom, and escalated once Barcenas began dating her mother and moved into their house.
She testified she and Barcenas first had sex in September 2007 and continued on an almost nightly basis, until her mom found a note from Barcenas in the girl's clothes in December. That's when her mother alerted the authorities and took her daughter to the hospital.
Roni Rivard, the Memorial Hospital nurse who examined the girl, did not find anything conclusive regarding a possible sexual relationship between the two, partly because she wasn't able to perform an internal exam.
"Based on hospital policy the incident that [name witheld] expressed had been outside of our policy range for doing an internal exam," Rivard said. Memorial does not perform internal examinations if alleged sex acts happened more than 96 hours (4 days) beforehand.
While Rivard testified that could indicate a regular sexual relationship between Barcenas and the girl, it was also a boost to defense attorney Greg Scott's case.
He's trying to convince the jury the girl made up the accusations because she had a crush on her teacher, and was jealous of Barcenas' relationship with her mother.
While the young victim did admit jealousy towards her mom, she testified it was because she wanted Barcenas to herself.
The ex-teacher faces charges of child rape. Although the girl testified that she consented to sex with Barcenas, she is not of consensual age.