Davis students help catch shooting suspects
Posted:
Updated: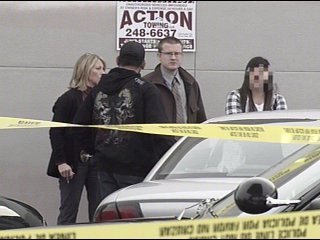 YAKIMA, Wash. -- From the outside Davis High School looks like a fortress. Both the Yakima School District and YPD say it's guarded like one, with plenty of security staff and police officers.
And while Wednesday's shooting was very dangerous, the students played an important role in catching the suspects.
"Many of these kids turned out to be excellent, excellent witnesses in that they identified the shooter, they identified the other person, they identified the vehicle, they gave us the license plate number of the vehicle. They weren't afraid to look at these suspects and tell us yes that's them or no that's not him that type of thing," said Capt. Greg Copeland, Yakima Police Department.
And it's their information that lead officers to the suspect vehicle, a White Nissan Altima, found around South 10th Avenue and Arlington. Officers arrested 18-year-old Rafael Aguilar, a known gang member. Before the shooting he'd picked up his 17-year old brother from Davis High School, either of them could be the shooter.
The Yakima School District says their top priority is student safety. Davis' school resource officer was the first on the scene after the shooting. SRO's and other campus security help keep gang violence out of Yakima schools.
"I don't want to say it never happens, but there's not much traffic on to our campus from those that don't belong there. Quite honestly the fact that there's an SRO, a police car presence, that acts as a deterrent for many folks," said Jack Irion, assistant superintendent, Yakima School District.

"And having the officers in the schools, the officers have helped enforce the point that if you're at school your gang colors and your gang attitude and all that goes along with that stays at home," said Copeland.
Witnesses have said there may have been two other people in the car at the time of the shooting, detectives are interested in talking with them.
Copeland says because they caught the suspects so quickly that lessens the chance for a retaliation shooting. But, there will be increased officers in the areas around Davis High School.