Keeping Trick-or-Treating Alive
Posted:
Updated: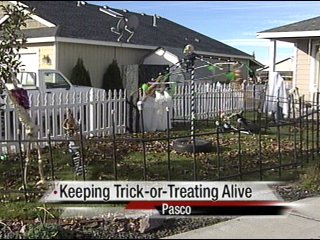 PASCO, Wash - Imagine turning your garage into a mad science laboratory or letting your backyard be home to a 22-foot spider. That's what one Tri-Cities family will be doing to their home for the trick-or-treaters Halloween night.
The "Playground of Screams" sits in the front yard of the Gibson house in West Pasco. They call themselves the "Boys in Boo" and have opened up their home to trick-or-treaters for the last seven years. It started in 2002 with just decorating their porch and now it has taken over the entire yard and garage.
"It's grown bigger and bigger. The first year we had five kids, the second we had 17 kids, the third year we had 150 kids and last year we had about 675 people come through our humble little garage and side yard haunt," says Shawn Gibson, the founder of the "Boys in Blue".
They pay for all the props out of their own pocket, all to keep the trick-or-treating experience alive.
"We've had so many people saying 'you guys got to charge for this'. That's not why we do it, we do it for the kids, for the trick-or-treaters, for the sake of bringing that back ...and it's our hobby," explains Gibson.
Once the trick-or-treaters head into the haunted yard they'll see props and monsters that have been worked on all year, including a 22-foot spider. Visitors will also take part in a "mad" science experiment in the garage.
The haunting will begin Halloween night at six o'clock and last till ten. The "Boys in Boo" are located at 4712 John Deere Lane in West Pasco. It is free, but they are accepting canned foods and dry goods as donations.