Local mentoring programs receive grant money to help continue work
Posted:
Updated: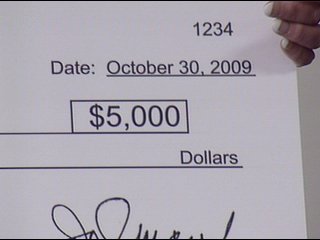 YAKIMA, Wash. -- The majority of this year's homicides have been gang related, five out of eight within the City of Yakima. Prevention is one way of combating the gang problem and a program working to mentor Yakima's youth received some much needed funding Friday.
Lieutenant Governor Brad Owen was in Yakima presenting $5,000 to the YMCA's ASPIRE mentor program because he says mentoring works.
"If they don't get support from somebody else they're gonna drop out of school, they're gonna get into trouble and that doesn't mean every kid, but the chances are higher for those that don't have a mentor than those that do have a mentor because mentoring works," said Owen.
The ASPIRE mentor program helps over 100 children, pairing kids with mentors and providing safe, engaging activities. Bank of America is granting $5,000 dollars to the program. It's the third year that ASPIRE's received the grant.
Proof of success for mentoring programs often comes in the form of testimonial, when kids with less than ideal circumstances reach their potential.
"He's currently holding an above average GPA at East Valley high school, volunteering time in the community, growing like a bean-pole and developing into a fine young man," said Aaron Arndt, ASPIRE mentor.
While Owen says mentoring works, mentoring and other prevention based programs are often the first to go when budgets get tight.
"Programs are being cut and people are being challenged and you know when the economy goes down the need goes up it doesn't go down, so we've got this reversal...we've got less money, but we've got more need out there," said Owen.
The $5,000 grant money will go directly towards funding activities. ASPIRE organizes group outings once a month, like movie nights, bears games or seeing a play at the Capitol Theater.
Sunnyside's Promise, the City of Sunnyside's anti-gang program, will also be receiving some funding, a $100,000 grant from the Gates Foundation and local donors will go towards prevention programs.