DNR issues Emergency Order to mine operator at Nile Landslide
Posted:
Updated: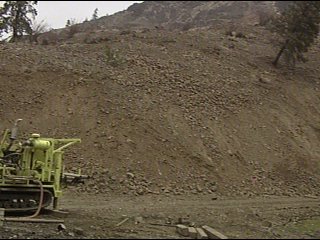 NILE VALLEY--The Washington State Department of Natural Resources (DNR) has issued an emergency order to suspend surface mining for a mine located at the foot of the landslide that destroyed State Route 410 and several homes.
Tons of rocks and dirt blocked the entrance to Simmons & Sons Hauling's mine after October's landslide. Despite that, they're trying to get back to work.
Simmons had to clear a path just to get to their rock mine.
The mine's been shut down since the mountain fell on October 11. Representatives from the Department of Natural Resources told KNDO that the Simmons family wanted to reopen at the end of October.
That news came as a surprise to the department.
"The conditions that we currently have at the site are markedly different than the site was permitted for in 1994," John Bromley, Department of Natural Resources, said.
Bromley fears mining could lead to another land slide. So Thursday morning, his agency issued the emergency stop order.
KNDO talked to members of the Simmons family Thursday. Their lawyers told them not to comment, but they expect to issue a statement in the next few days.
The Department of Transportation has been monitoring the slide since it happened. They've barely seen any movement in the past two weeks.
According to Bromley, looks can be deceiving.
"Looks are a qualitative thing," he said. "It looks stable. What we're looking for is a more quantitative number. There is enough uncertainty in our minds that we are erring towards the side of caution."
DOT hopes to get readings on movement inside the slide by next week.
A DNR press release said further mining is not authorized by the company's existing reclamation permit, because it was not based on the site's current conditions. The emergency order is effective until an acceptable reclamation plan is approved by DNR.
Until then, Simmons Hauling will help Selland Construction build the road around the slide, and their mine will stay closed.