Why are Hispanics under-represented in Yakima
Posted:
Updated: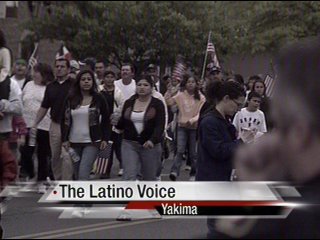 YAKIMA, Wash.- The look of Yakima is changing every year. Hispanics now make up nearly 60 percent of the students in our local schools and 48 percent of the general population in Yakima County. Their representation on elected and appointed positions fall way below their numbers.
Three years ago, Hispanics walked, voicing their opinions over immigration issues. With Latinos accounting for 48 percent of the population, many say their voice is still not as strong as it should be.
"You know anti-Hispanic attitude right here in this community that sort of don't want things to change," said Luz Bazan Gutierrez from the Yakima Hispanic Chamber of Commerce.
Some are seeing the Yakima City Council elections as evidence of this.
"It's like we take two steps forward and then 3 steps back and this whole election thing shows a good point," said Gutierrez.
While some agree losing Councilwoman Sonia Rodriguez means losing the Hispanic voice, community activist Tony Sandoval said Hispanics are slowly getting more involved and seeing more opportunities.
"They haven't been invited in the past and now that's changing, people are feeling more comfortable and inviting people to be a part of their group," said Tony Sandoval.
The numbers don't show that yet. Twenty-six percent of Yakima Memorial Hospital's patients are Hispanic but out of 17 Board of Trustees, only one is Hispanic. This is true for many other large Yakima organizations like United Way who only has two Hispanic board members.
"We have worked to reach out to the community progressively and I think that we see more and more Hispanics involved in united way," said John Warren from United Way.
Warren said one issue is finding enough qualified Hispanic leaders that truly represent the Hispanic community and that's an issue that doesn't surprise many.
"There has to be a process in to bring people to be players and that process doesn't happen over night," said Gutierrez.
Leaders from the Yakima and Central Washington Hispanic Chamber of Commerce said they are working with the community to bridge this gap.