Gang related shooting locks down two Yakima schools
Posted:
Updated: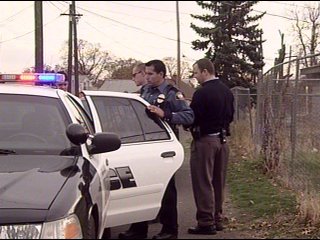 YAKIMA, Wash. -- A drive-by shooting leaves one injured and locks down two Yakima schools. Officers have two people in custody, they found the men hiding in the bathroom of a home near where the shooting took place.
Shots were fired around 12:40 p.m. in the area of South 3rd Street and Pine. Irvis Pineda, an 18-year-old, from Yakima was hit in the leg. Officers found Pineda at a nearby apartment complex, they're calling him a gang associate.
The suspect vehicle was a blue Honda Civic and police chased the car just south of Washington Middle School where the suspects took off on foot. One man took off his shirts and ran out of his shoes.
Officers quickly locked down the area, the suspects kicked-in the back door of a house on South 7th Street to try and hide. The women who lives there was home at the time and the suspects threatened to kill her if she called police.
Two schools are nearby, Washington Middle School and Adams Elementary.
"When we get involved in these kinds of cases we take every precaution to notify the school immediately, get it into lock down and keep it in lock down until the situation is safe," said Capt. Rod Light, Yakima Police Department.

"I was on my way to the "Y" and I'm glad I didn't go cause my mom is elderly and I wouldn't have wanted that to happen to her," said John Bibles, neighbor.
Police pulled two men from the bathroom, 27-year-old Richard Benavides and 20-year-old Don Lee, both are from Turlock, CA. Police believe the suspects are also involved in gang activity.
The clothes officers found in the yard fit one of the men who was hiding in the bathroom. Detectives also recovered a loaded pistol.
The two men have been booked into the Yakima County Jail on charges of assault one, burglary one, felon in the possession of a firearm, and felony harassment.