Citizens' Academy hopes to help YPD keep Yakima safe
Posted:
Updated: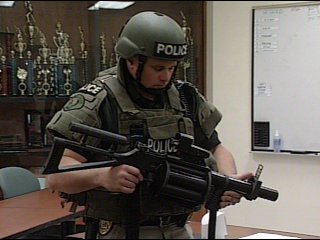 YAKIMA, Wash. - The police department is looking to fill more spots in its Citizens Academy, a program that helps the public learn more about how YPD operates and what they can do to keep their community safe.
The course is set to begin as gang-related shootings continue in Yakima each week and legislators try to get more funding to help fight that problem.
For 13 weeks, participants in the academy will get to meet with several divisions of law enforcement and hear from the people at the top of public safety, including the police chief and the Yakima County prosecutor.
Citizens Academy is free and paid for by taxpayer dollars. It hopes to give its members a better view of what police face each day by showing them the equipment they use and introducing them to the people who work in divisions like gang enforcement, narcotics, and the K-9 unit.
Officer Ritch Fowler is with the department's training office and oversees the Citizens' Academy. He says members can leave the program more empowered to help keep their community safe.
"Our eyes and ears can't be everywhere," he said. "But if we have the citizens out there helping us that only makes us more effective by as simple as writing down the color of a car, by someone you have seen in your neighborhood that's normally not in the neighborhood."
The call for a more informed public is especially needed right now, Fowler says, in tough times when the department is understaffed and cannot be everywhere at once.
"We don't have the numbers to put a police officer on every corner of the city," he said. "I am sure we would like to do that but unfortunately we have to rely on the citizens."
Anyone interested must apply to be in the academy and pass a screening before being accepted. Applicants must be 18 years old or have parental consent before beginning the program.
The first class will be on Nov. 18 and continue on Wednesdays from 6:30 - 8:30 p.m. YPD is looking for a commitment from interested citizens to come to every one of the 13 sessions. They will work around holidays and understand if members have to miss one week.
Citizens' Academy takes place on 207 S. 3 rd Street across from YPD Headquarters. You can pick up an application at the police department or contact Officer Fowler directly for an application.
He can be reached at (509)576-6751 or by email at rfowler@ci.yakima.wa.us .
Completed applications can be sent to:
Yakima Police Department
c/o Training Division
200 S. 3 rd Street
Yakima, WA 98901