The World's Smallest Pumpkin in the Tri-Cities?
Posted:
Updated: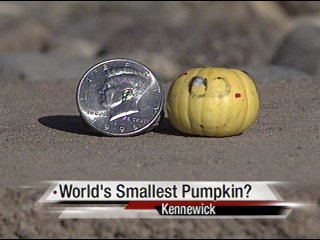 Kennewick, Wash - Last week KNDU's Morning Weather Forecaster, Jordan Youngs, claimed to have grown the world's smallest pumpkin at 2.3 ounces. A few days later Jordan found out he wasn't even close.
"This is the smallest pumpkin I've ever seen, so you have a real winner here," said WSU Tri-Cities Master Gardener, Bob Brown, to Jordan last week after showing him his pumpkin.
At this point Jordan felt pretty good about possibly having the world's smallest pumpkin. Then he came into work a few days later and saw "it" sitting on his desk... It was a much smaller pumpkin that someone dropped off.
Jordan's pumpkin is smaller than a tennis ball and this new one is more comparable to a golf ball. Jordan's pumpkin is a little bigger than a 50 cent piece and this one was about the same size.
A week ago Jordan walked proudly into the post office to get an official weight of his pumpkin. To avoid embarrassment, he stayed at the news station this time to get the weight of the new pumpkin. According to the scale at the front desk it weighs only a half an ounce. In every way it is smaller.
Jordan had to meet the grower of the pumpkin who actually left a phone number when they dropped it off. It was Brianna Brown, a ninth grader in Kennewick. She heard about Jordan's pumpkin last week and immediately had this to say.
"No way, I have the smallest," explains, Brianna.
Judges at the Pasco Farmers Market Pumpkin Contest agreed. Brianna won the smallest pumpkin category.
"It's smaller than Jordan Youngs' pumpkin, by a lot," Brianna says.