Yakima School District works to prevent the spread of H1N1
Posted:
Updated: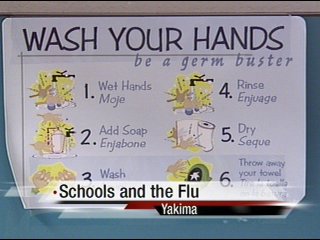 YAKIMA, Wash. -- With the winter flu season approaching we wanted to know what the Yakima School District is doing to prevent the spread of H1N1 or swine flu.
H1N1 is not the first pandemic health scare, before it MRSA and the bird flu, which is why the Yakima School District is ready and so far they're system seems to be working.

"We are only one-percent more affected by absenteeism this year than last year," said Becky Scholl, executive director of student services, Yakima School District.
Students know the basics, coughing into your sleeve and frequent hand washing. They're taught to sing the "Happy Birthday" song so they wash long enough.
When students aren't feeling well at Gilbert Elementary they get sent to the health room. If they're displaying flu like symptoms they may be asked to wear a mask. They're also being asked to drink plenty of water and stay hydrated.
The school district is also working to educate parents by mailing a flu pamphlet home. It's written in both English and Spanish, helpful Web sites and phone numbers are listed, plus a checklist lets parents know when it's time to seek medical help.

Ages three to 24 are considered high risk for H1N1, but it's not likely that students will be vaccinated in school. Washington state has gone away from that model of student health, preventing the spread is now key.
"And we're thinking at least we're slowing it up we're not having a major epidemic that's overwhelming the systems around here, so we're feeling good about that," said Scholl.
School custodians are an important part of the prevention efforts. They've been wiping down surfaces sometimes several times a day.
One local pharmacy now has the vaccine available for the public. The Summitview Rite Aid has both the nasal and injectable H1N1 vaccine. Currently, it's only available for people considered "high risk" that means people ages three to 24, health care workers, pregnant women, people with asthma or other conditions that might be compounded by the flu.