Safety at work in light of two fatal shootings
Posted:
Updated: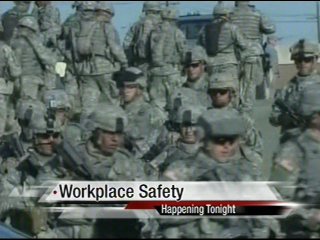 KENNEWICK, Wash-- A fatal shooting Thursday at Fort Hood in Texas claims the life of at least 13 soldiers.
Then Friday in Orlando, a suspect is in custody for allegedly shooting up an office building, killing at least one employee.
Two fatal shootings in less than 24 hours. It is news that has some asking--am I safe at work?
"You should feel safe at work," says Mike Ellis with Apollo Heating and Air. "Hopefully work is more safe than at home."
Mike Ellis has been safety supervisor for Apollo Heating and Air for over a decade. It's his job to keep 500 employees in check.
"We want to know if things are bothering them on any level for any reason. Obviously the worst outcome is the shootings," Ellis says.
That's why each month, Mike and 150 supervisors have a meeting to go over any safety concerns. It is similar protocol for Hanford, where 11,000 are employed in the Tri-Cities.
"The federal workers here get together for all hands meetings and part of it is to go over the policies and let people know what they need to know, and part of it is just to get to know each other," explains Cameron Hardy with the Department of Energy. "I mean, people need to know who they're working with and be able to know when something is getting out life."
Knowing normal from abnormal behavior--it starts with one on one conversations.
"It's a lot of people to deal with," adds Hardy. "So it's important to keep everyone educated about workplace violence."