Snow closes Chinook Pass; hopefully not for the winter
Posted:
Updated: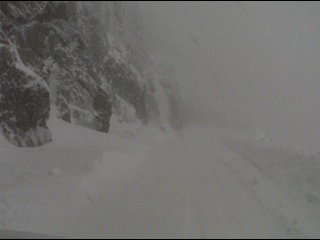 CHINOOK PASS--Winter is not officially here, but snow has begun to fall on Chinook Pass. More than two feet buried State Route 410 Friday night.
All that snow has closed 410 from Morse Creek, five miles east of the summit, to Crystal Mountain Pass, eight miles west of the summit, cutting off access to the Nile Valley from the west.
In other years, this much snow may have closed the pass until May, but with crews hurrying to finish the alternate road around the land slide that destroyed SR-410, the DOT wants to keep it open as long as possible.
Chinook Pass normally closes around November 20 due to the threat of avalanches. While DOT spokeswoman Meagan McFadden told KNDO it's not unheard of to close Chinook this early, they're trying to clear the road and keep the pass open.
But avalanches may force seasonal closure sooner rather than later.
"We're going to have some experts come up there [Sunday] morning to evaluate [the potential for avalanches]," McFadden said. "If there is that danger, we'll end up having to close the pass."
Forecasts call for another 10 to 17 inches of snow to fall by Sunday morning.
McFadden said snow on the pass won't have an immediate effect on work in the Nile Valley.
They've only had small amounts of snow there, not enough to slow work or raise the level of the Naches River.
Crews are still on schedule to complete the road by Thanksgiving.