Two dead in separate head-on collisions
Posted:
Updated: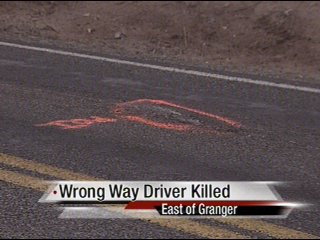 GRANDVIEW--Two people are dead in two separate early-morning accidents, both caused by drivers going the wrong way.
Washington State Patrol troopers believe 20-year-old Angelica Barajas of Grandview was killed by a drunk driver.
Troopers say Barajas was exiting Interstate 82 at exit 75 around 3:00 a.m. when her car collided head-on with another vehicle, driven by Edward Castilleja of Prosser.
Castilleja was going in the wrong direction. Trooper Tom Mortensen said he appeared to be under the influence of alcohol.
Mortensen said neither driver saw the other coming.
"There was no brake marks from either vehicle prior to collision," he said. "They basically hit, rotated 90 degrees and that's where they stopped."
Mortensen said Barajas' 11-year-old niece was with her in the car.
She suffered some broken bones, but is in stable condition at Sunnyside Community Hospital.
A couple hours before that accident, WSP troopers responded to another deadly head-on collision in the Lower Valley, this one on Van Belle Road about a half-mile east of Granger.
State troopers say 21-year-old Raul Tapia-Cardenas of Toppenish was driving in the wrong direction at 1:30 a.m. Saturday, when he rammed another vehicle.
Tapia-Cardenas died at Memorial Hospital later that morning.
The other driver is in stable condition. A third driver wrecked attempting to avoid the collision; he was not injured.
Troopers are still investigating.