Driving in the Lower Valley gets dangerous
Posted:
Updated: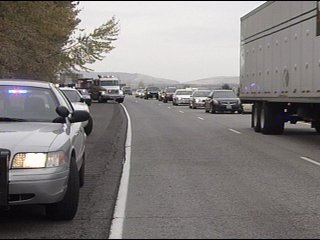 NORTH OF SUNNYSIDE--A Saturday evening car accident on Sunnyside sends two to Harborview Medical Center, and police suspect drugs or alcohol were involved.
There have been three fatal car accidents this weekend, and while state police have as many troopers on patrol as they can, it's also up to drivers to keep themselves and others safe.
The Lower Valley's seen five fatal crashes in the past two weeks. At 7:30 p.m. Saturday, state troopers responded to a crash on State Route 241, north of Sunnyside.
35-year-old Cristobal Villareal and 33-year-old Ricarda Camacho Gomez are both in serious condition at Harborview Medical Center in Seattle. Both are Mattawa residents.
The crash came less than 24 hours after a 20 and a 21-year-old died in separate accidents on Interstate 82 and Van Belle Road. Troopers believe alcohol played a factor in both collisions.
"I just think it's a tragedy," Rosemary Lamas of Wapato said. "So many people get hurt."
Washington state troopers say the end of harvest season may be linked to the recent increase in accidents.
"There's not as much work out there, so people aren't having to get up early the next morning and go to work," Trooper Darin Foster said. He believes the lack of work leads to more drinking and thus, more drunk driving.
With the holidays coming up, unsafe driving may become even more of a problem. Troopers say the best idea is to stay off the road late at night.
If you have to be out there, be alert.
"You can't always be prepared for every situation," Foster said. "But, if you [think] what if that car does this, or what if that happens. Try to plan ahead."
If you do decide to drink the best plan is for a night in.
"You don't have to drive," Horacio Depaz of Sunnyside said. "If you drink stay home. Drink responsibly. That's what we need to do."