Unlimited hydroplane races in Doha, Qatar will expose sport to worldwide audience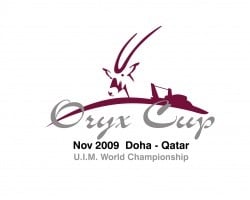 "It should be an exciting venue. I hope that the crowd enjoys what we do," said U-16 Ellstrom's Dave Villwock, talking about racing in Qatar.
It's a chance to show the rest of the world what Unlimited Hydroplane racing is all about. The ABRA has never raced outside North America before.
"When we actually met Sheikh Hassan in Seattle, it made it all real," said U-1 Oh Boy! Oberto's Steve David. "Up until then, we were just hoping. Once we met him, there was no question it was real. Probably even bigger than we expect when we get over there."
Sheikh Hassan of Qatar, an accomplished boat racer himself, was instrumental in making the UIM World Championship Oryx Cup a reality. He visited with ABRA officials in Seattle this summer and signed the deal with Sam Cole of ABRA.
"I think it's much bigger than we perceive. A world championship, driver championship, and team championship are all up for grabs," said David. "For the sport, it's much bigger. This could really offer a huge future that could really elevate the sport… for teams, for compensation."
"We need to do a great job, be great ambassadors. Use this as a giant pole vault for the sport in the future," David said.
Villwock echoes those thoughts. "I was lucky enough to be in this sport when we had teams like Miss Bud, Circus Circus, Tide, Pringles, Pay n Pak - well heeled, professional teams with 4-8 professional crew members. We haven't been able to do that for a while due to economics. If we do a good job in this foreign land, put on a good show – and we think we can – and get people in another country excited about our sport... I think we'll be able to springboard this sport to a whole new gear."
"This will be a very big deal for the sport and the future," said Villwock.
"It's an honor for me," said U-5 FormulaBoats' Jeff Bernard. "Awesome we have another race after losing San Diego. Bernard said he's never traveled outside the U.S., Canada and Mexico and he's hoping to get to spend some time away from the races while he's there and visit.
Steve David is visiting as well. He'll be speaking with some of the U.S. troops stationed in the Middle East. "A Bob Hope moment," he said. David also said many of the troops will be in the pits with the teams during race week.