Public disclosure request uncovers e-mailing of police personnel information
Posted:
Updated: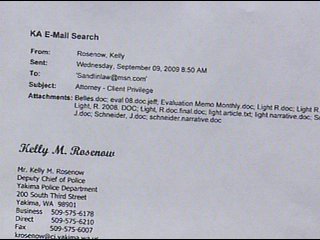 YAKIMA, Wash. -- A public disclosure request shows e-mails containing privileged city information is forwarded to a private attorney. The public disclosure request asked for e-mails between Deputy Chief Kelly Rosenow and his private attorney J.J. Sandlin.
The e-mail shows attachments which may contain personnel files of several Yakima Police Department captains. Personnel files are protected information. These e-mails are now being investigated by city legal.
In September captains and sergeants with YPD filed a vote of "no confidence" against Rosenow. Rosenow hired an attorney, claiming defamation .
Now a public records request of Rosenow's e-mails may reveal that Rosenow's been sending police personnel files to his attorney.
"What in the (explicit) are you doing with those files, that's attorney client confidence," said J.J. Sandlin, Rosenow's attorney.
Personnel files are not public record. People have a right to distribute their own file, but not other employees. In Rosenow's e-mail are attached documents naming Captain Belles, Light and Schneider.
We contacted Tim Ford, he's the assistant Attorney General for Government Accountability, with Attorney General Rob McKenna's office.
"If they are personnel files of a different employee then those are supposed to stay exempt from disclosure," said Ford.
Rosenow's e-mails came from a public computer and city e-mail account, which is why the city released them to KNDO after a public records request.
"The mere fact that you forward them to an attorney doesn't automatically create some kind of cloak of attorney client privilege," said Ford.
We contacted the officers listed in the e-mails, they chose not to comment because of the ongoing investigation and pending lawsuits with the city.
City Manager Dick Zais is still looking into the vote of no confidence, while the city's legal department is investigating the e-mails. Sandlin does not admit or deny there are attachments in Rosenow's e-mails.
"I will follow proper discovery rules just like every lawyer whose an officer of the court," said Sandlin.
Sandlin said he will likely be filling an action Tuesday because he said the e-mails should have never been released to the media.