KNDU's Patrick Noland Wins NMDP Award
Posted:
Updated: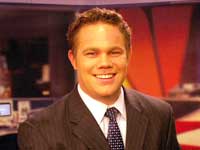 MINNEAPOLIS, Minn. -- KNDU reporter Patrick Noland is the recipient of an Excellence in Local Media Award from the National Marrow Donor Program® (NMDP) for his series of reports that helped increase awareness and understanding of the need for bone marrow and umbilical cord blood donation.
The award was presented to Noland at NMDP's Council Meeting in Minneapolis on November 6th.
Noland helped raise awareness through numerous stories since featuring a donor registry drive for a 7-year-old Kennewick, Wash. girl in December 2007. But his first introduction to the NMDP was seven years earlier, when his father received a life-saving bone marrow transplant from an unrelated donor.
Patrick had joined the Be The Match RegistrySM, operated by the NMDP, as a potential donor in his father's honor. In a unique twist of fate, Patrick had the privilege of being able to repay that extraordinary gift when he was called in 2008 as a potential match for a patient with the same blood disease his father had.
In April 2008, Patrick filmed his own marrow donation experience. His photojournalist essays were broadcast on KNDU-TV, Tri-Cities (Kennewick), and KHQ-TV (Spokane).
In June 2009, the Noland family traveled to Washington, D.C ., to speak before members of Congress on behalf of unrelated marrow donors and recipients and the work of the Be The Match Registry.