City of Yakima proclaims Women Veterans Recognition Week
Posted:
Updated: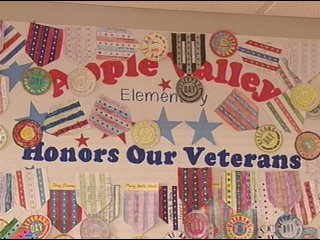 YAKIMA, Wash. -- Veteran's Day is a time to thank the men and women who've served our country, but this year Yakima's Vet Center is drawing a little extra attention to female veterans.
The City of Yakima has proclaimed this week Women Veteran's Recognition Week.
"And they go home they hang up their uniform and that's the end of that they don't go wearing the hat and saying I'm a woman veteran or I served in the military and so we want them to be seen," said Maria Rivera, readjustment counselor, Yakima Vet Center.
A large and often overlooked veteran population is women. There are 1.8 million female veterans in the United States, that number grows daily. Rivera served 22 years in the Air force and now works at the vet center.
"The primary mission of the vet center was to serve veterans who served campaigns or combat zones and our mission is to help them readjust to civilian life," said Larry Wilson, team leader, Yakima Vet Center.
Rivera is asking all female veterans to be counted this Veterans Day. She says women serve the same as men and they deal with the same issues.
"We need to really say that because they get PTSP, post traumatic stress disorder just like the men do. These days they go in combat just like men do," said Rivera.
Wilson says the biggest obstacle the vet center faces, for men and women, is getting the word out about all the benefits available for veterans.
The Yakima Vet Center will be holding a special event this Saturday for all female veterans.
It's from 10:00 to 3:00 p.m. here at 2119 West Lincoln Avenue.
For more information about veterans benefits head to the Web site: http://www.va.gov/