Junior World Bassmaster Champion, Jake Cook
Posted:
Updated: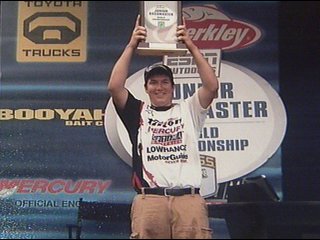 Before he could walk, Jake and fishing went hand in hand. This past year his passion turned him into a world champion, by winning the Junior World Bassmaster Championship in Florida on October 30th. He credits his pre-fish routine that he took part in a month before the tournament to his success.
Cook said, "Running around the rest of the day...trying to figure stuff out...to where you had it figured out...the week before or the month before. You already know what your going to do."
The preparation a month before the tournament made him a winner that day back in October. It's the same winning approach he uses to map out his future goals.
Cook said, "I'm going to try to be a cop and keep fishing tournaments when I can. And if I qualify for a bigger tournament...if I win...I win...it all goes from there I guess."
Before you can become a champion, you need to knot up the lure that brings in the prized fish. So I personally challenged the champ to a preparing a fishing line to find out if I stood a chance on the water...
Here is how I described what happened in the challenge:
"See he doesn't get the luxury of scissors on the water...clippers in this case on the water...but I do because lets face it...no one wants to see me get hurt. AHHHHHH. Hooking myself...OWWW. Oh you gave me a new one that's cheating...where's the eye that was working...owww...hooking myself. This could work. Its as easy as it looks...Patrick...ahhhhh...I'm going to get away from hooking myself right now and I'm going to send it back to you."