Food banks need more donations to meet the Valley's demands
Posted:
Updated: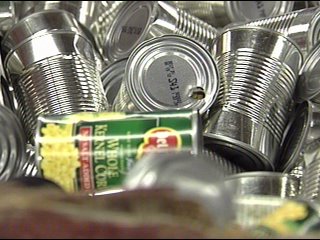 YAKIMA, Wash.- We're two weeks away from Thanksgiving. Food banks are feeling the pressure as the number of hungry families quickly increases.
The cold weather is here. For farmers, that means most of their work is done for the season, keeping places like Northwest Harvest extra busy. With thousands of unemployed people in the Yakima Valley, food donations are needed more than ever this year.
"It represents whether they go hungry or not sometimes because that's all they rely on," said Luis Ortega, who helps distribute food to the Toppenish Community Food Bank.
Employees at the Northwest Harvest Food Bank say they have half of a million pounds of food. That's more than they expected, but with 30,000 families to feed this winter, that could go quickly. More families are needing help everyday.
"It's kind of a last resort, I get calls nearly everyday from people who don't know how the system works they don't even know where to turn," said Lisa Hall the Warehouse Manager at Northwest Harvest.
Northwest Harvest has several bins filled with all sorts of goods, but that's not the problem, it's the amount of empty bins that is.
"Usually we have people that are homeless or seniors but during the winter months we get a lot of people out of jobs and that is their means of survival," said Ortega.
Northwest Harvest distributes food all over the area. Thursday, they filled a truck for Toppenish, helping at least 100 families. With the demand for food growing, employees say they are hoping donations continue.
"We need more help to keep up with it and that is kind of the reality we've so far been able to keep up but...we need more," said Hall.
Northwest harvest says they accept donations all year round but food is always in high demand during the winter.