White Pass Ski Resort opening over a month earlier than last year
Posted:
Updated: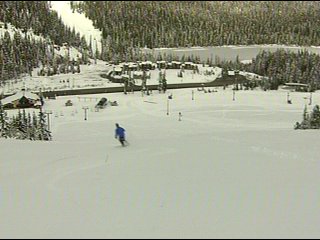 WHITE PASS, Wash. -- You may have noticed the hills are turning white, which means White Pass Ski Resort is gearing up to open earlier than usual.
An opening day of November 13th is over a month earlier than last year. For many ski season never comes soon enough.
"We could paint the rocks white and sell lift ticket to some kids," joked Kevin McCarthy, general manager, White Pass Ski Resort.
But, he doesn't have to do that, two feet of dense snow fell over the weekend and about five inches of fresh snow has fallen this week. If that snow were powdery they wouldn't be opening so early.
"Depth is really a misnomer it's really the consistency of the snow, generally 2 to 3 feet we're good to go," said McCarthy.
At the top of the mountain McCarthy pointed out the expansion project in the Hog Back area.
"We're way ahead of schedule, we have all the towers up we have the foundation and part of the mid mountain lodge is up, all the power lines are in," said McCarthy.
This time next year people will be skiing those new runs, but for now only a limited ski area is open because of rocks and trees still left uncovered by snow. They're grooming the runs and putting out barricades. An early opening day is positive, yet it's still too early to tell how the season will turn out financially.
"That's why I say it's really the full picture you know starting early doesn't necessarily mean you're going to have a fabulous financial season, a lot depends on what happens at Christmas and what happens in January and February," said McCarthy.
McCarthy said there's been a steady increase in season ticket sales over the past five years. For ticket prices and mountain conditions head to White Passes Web site: www.skiwhitepass.com