Planned Parenthood of Central Washington makes cost cutting restructure
Posted:
Updated: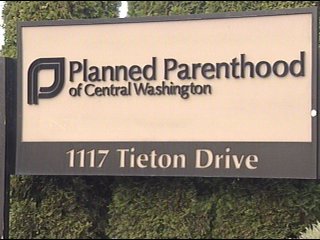 YAKIMA, Wash. -- One of the largest providers of reproductive health services is making some cost saving changes. Planned Parenthood of Central Washington is restructuring to include Spokane and Northern Idaho.
As the debate over health care reform rages on, locally the non-profit Planned Parenthood is preparing for good or bad news. They're merging two administrations to one central location, Yakima. President and CEO Anna Franks calls it a proactive move.
"It's really hard to run a health care business right now with reduced spending and with reduced reimbursement rates and we still need to attract fantastic employees," said Franks
The new organization will be called Planned Parenthood of Greater Washington and Northern Idaho or GWNI. Spokane and Kennewick will still have small administrative offices, Yakima will become the main administrative hub. Franks said 12 administrative positions were cut from the 2010 budget.
Board members approved the merger back in August and made a final vote last weekend. Franks said patients shouldn't notice a difference right away, but eventually the cost savings will be passed along.
"We're trying to spend more money on our programs because we won't have to spend, we won't have to have two finance departments, we won't have two human resource departments, we'll have one so that we can better serve our clients with the money we get," said Franks.
Yakima was picked by the board because of it's central location.
"It's very centrally located it's easy to get to Seattle and it just meets the needs of what we're trying to do in our organization," said Franks.
The merger will be complete and effective January 1st. Planned Parenthood GWNI serves around 40,000 patients, 15,000 of which are in Yakima County.