Gun show sparks protest
Posted:
Updated: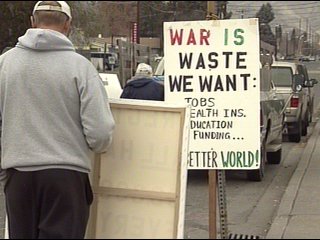 YAKIMA--State Fair Park hosted a gun show for the third time this year, but this weekend's show got a lot more attention.
Just days after agents from the Bureau of Alcohol, Tobacco and Firearms blamed gun shows in Eastern Washington for a large number of illegal guns entering Mexico, Sunday's show went on, business as usual.
Outside the show on the corner of Nob Hill Boulevard and Fair Avenue, members of Yakima Valley Peace Advocates Network protested the show, saying unlicensed dealers don't do background checks on buyers.
Protester Larry Breer points to the nine licensed gun dealers in Yakima. He believes that's the only place people should be able to buy guns.
"A person who is perhaps a felon or an unstable person should not be able to walk into this show and buy a gun!" Breer said.
KNDO was not allowed to videotape Sunday's show because the organizer, Brian Kjensmo of Sports Connection, was not there.
But KNDO did attend and videotape a Sports Connection gun show in March 2009.
Kjensmo said every purchase made at the show must be tracked.
"Whether it's a licensed dealer or whether it's a private individual, they have to fill out a receipt to sell that firearm before it can go out the door," he said.
Kjensmo said shows like this weekend's aren't to blame, and that the show follows all state, federal and local laws.
Private individuals are allowed to sell guns in Washington. Picketers want that law changed.