Public's first chance to speak out about 2010 budget Tuesday
Posted:
Updated: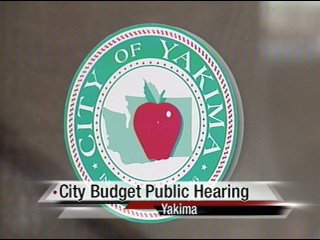 YAKIMA, Wash. – The public will get its first chance to speak directly to city council members about the proposed 2010 budget Tuesday night at a public hearing after the regularly scheduled business meeting.
The current proposal for next year's budget eliminates 24 current city positions, which include five layoffs. City Manager Dick Zais said at Monday's city media briefing that two of the five people slated to be laid off had found jobs in other departments or outside city government.
He stressed that the rest of the city will still need to pick up the slack from those lost positions and warned about more layoffs in the future.
"We have to, I think, recognize there's a prospect of even further reductions out there in 2010 even after this budget is adopted," he said.
In the midst of this process, the city council is also preparing for a transition. The current group will have its last business meeting Tuesday. Outgoing Council Member Sonia Rodriguez will serve in that position until the results from this month's election are certified.
Council Member Bill Lover says radio host Dave Ettl has been keeping up with the budget and will be ready to start next month.
"The new councilman has been getting packets and reading them, he's been at the meetings," Lover said. "He'll just be forced to be up to speed at that time and I suspect he will be."
Rodriguez will take part in any meetings scheduled for the council next week. Ettl will become the newest member of the council after being sworn in at the business meeting on Dec. 1.
The council begins Tuesday with a study session at 8:00 a.m. The regular business meeting starts at 6:00 p.m. followed up a set of public hearings, including one about the budget, at 7:00 p.m.