The Naches River is relocated for revention and erosion
Posted:
Updated: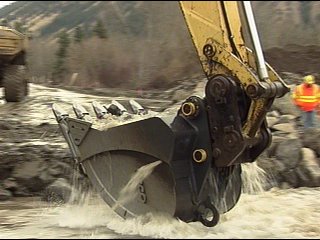 NILE VALLEY, Wash.- With warning for high river levels, crews are making the detour for State Route 410 flood and weather-proof. The entire area near the landslide is under construction.
The detour for State Route 410 is getting a face-lift. The road was raised more than six feet in some places. The roads flooded after the landslide, blocking off homeowners. For this new road, flooding or even extreme weather won't be a problem.
"Traffic would be closed down for those people because we have closed Chinook Pass due to avalanche hazards so this is for 600 or so residents and business this is there only way into town so it was important that we get an all weather route built," said Don Whitehouse the WSDOT Regional Administrator.
There are plans to rebuild state route 410 and reliability is a priority. Dot employees took us up on the actual landslide where they're continually checking the soil, making sure the land isn't moving.
"We have three rigs digging and two being taken by helicopter so that will give geo-tech the info they need to help us decide where this road should finally be," said Whitehouse.
While that's being reviewed, an immediate concern is flooding and erosion, which is why the Naches River is being relocated. Crews are picking up rocks and blocking off the old path pushing the water into this new channel. Employees say this channel will bring stability to the area.
"The channels we built as well as the road should protect the infrastructures around here and keep the river in its banks," said Vern Redifer, Director from the Yakima County Public Services.
Crews built the channel around the landslide, with as much distance as possible, just in case.
"If more slide comes down exactly where it did it shouldn't have any effect on this at all," said Redifer.
The river diversion will be completed by Thursday and crews will finish paving the detour route by Thanksgiving. After that, engineers will continue working on plans for the new State Route 410.