Yakima's Grocery Outlet sees double digit increases in sales
Posted:
Updated: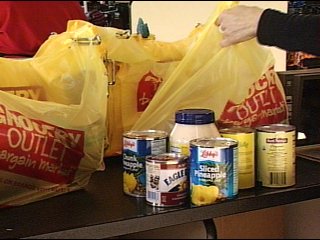 YAKIMA, Wash.- The economy is putting pressure on many businesses, but for Yakima's Grocery Outlet, that's not the case.
Several hundred people shop at the Grocery Outlet Everyday. Some of them are driving long distances.
"From the Tri Cities and all the way from Cle Elum, we're getting them from everywhere," said Vicki Baker, the owner.
This discount store has items overstocked by manufacturers, so they are sold at cheaper prices saving customers some money. Many say they still find good products.
"Cheese is always an expensive item you can get a good parmesan or gorgonzola or regular cheddar," said Customer Kane Roedr.
The Grocery Outlet sells fresh produce, frozen foods, cleaning supplies and now owner Vicki Baker says there's a new trend that's keeping them busy.
"It's a little more of a change in mentality, folks wanting to save money and have that comfort of having money in the bank to fall back on," said Baker, owner of Grocery Outlet.
Another reason people go to Grocery Outlet is to get household items in bulk, saving money on things like laundry detergent and soap.
"Like if they see something they really like here and it's a bargain they're getting a case don they don't have to keep going to other stores," said Baker.
The owner says the business is growing. Since last year, sales are up double digits and they hired more employees. Many of the customers are regulars and as for the new ones, they say prices will bring them back.
"You just want to make sure you're eating well but not spending too much on groceries," said Baker.
Success leads to expansion. The owner says they plan to open another location next year.