YSO investigating early morning shooting that killed one man near Wapato
Posted:
Updated: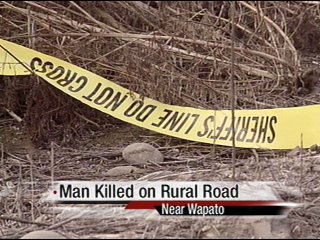 YAKIMA, Wash. -- A Wapato man is found shot and killed in his car early this morning. Deputies have no suspects. It happened on a gravel road outside of Wapato around 1:30 a.m.
"Pretty soon I hear pop, pop, pop, pop four shots went off," said Ralph Haulk.
Haulk lives down the road, not too far from the scene of Yakima County's latest homicide, 55-year-old Lenard Cohenour was shot in the chest.
The area outside of Wapato is remote only cornfields and a few scattered houses. Yakima Sheriff deputies learned about the homicide because someone drove by and saw the victim in his vehicle.
Thursday morning Haulk heard the sound of sirens, deputies speeding to the intersection of Phillip John Road and Winaway Road. He counted at least ten cars.
"I got up and looked and man there were cops all over this place and I've never seen so many come at one time," said Haulk.
Detectives are following leads, but said they don't have any suspects. Haulk said plenty of people come and go on this gravel road and the sound of gunshots is common.
"The indication we have is that he went out to meet someone, but we don't know the identity of that person yet," said Chief Stew Graham, Yakima Sheriff's Office.

"I hear shots all night you know, just about every day shooting at coyotes, keeping them away from chickens so people always shooting around here," said Haulk.
Cohenour lived on Winaway road, Haulk said he was friendly and helpful. According to the Yakima County coroner Cohenour is the 20th homicide this year in Yakima County.