Woeful state revenue forecast worries local colleges
Posted:
Updated: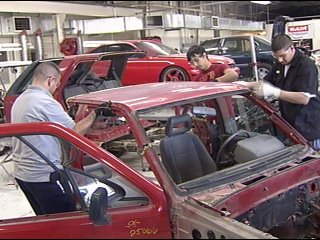 PASCO, Wash.-- Class is in session at the auto body program at Columbia Basin College. But come next spring, the program is no more-- cut because the college is coping with smaller budgets, leaving teachers without their students.
"It's gonna be hard for me personally, this is my 28th year being here," says assistant professor Rhody Hayes. "It's nice to be able to walk into any shop in the Tri City area and see these faces that were young at one time and now are a little older now."
The program was cut even before today's low state revenue forecast. Now the college says they need to trim an extra million dollars next year, meaning more cuts, more layoffs and more headaches.
"It is frustrating to us because the demand for community college education skyrockets in times of economic crisis," says CBC spokesperson, Frank Murray. "So we like to say don't starve the solution."
And it's also a problem for WSU Tri Cities, already operating with a budget around three quarters of what they say they need. More belt tightening is possible, which could mean they have to turn students away.
"It may mean larger classes it may mean cancellation of some classes," says vice Chancellor of Academic Affairs at WSU Tri-Cities, Dick Pratt. "It may mean some students can't be accepted because we just don't have the budget to actually teach them."
But for now the cuts are leaving CBC without valuable programs, and Rhody Hayes might be out of a job.
"Hopefully I'll be able to keep here but with another budget cut of a million dollars it may not be," Hayes says.
Hayes has been trying to get donations to keep the auto body program alive, but he needs to raise 75 thousand dollars. Both CBC and WSU Tri Cities will finalize the cuts they may need to make sometime in the new year.