Yakima officer recovering after being knocked unconscious while arresting a suspect
Posted:
Updated: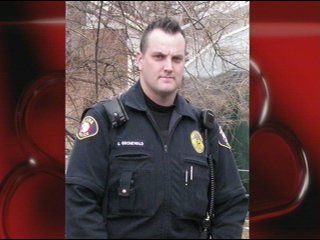 UNION GAP, Wash. -- A Yakima police officer is recovering after being knocked unconscious as he struggled with a suspect in a speeding truck. Officer Geoff Gronewald helped stop two wanted suspects from getting away last night.
As Yakima and Union Gap police officers were arresting a man on a felony warrant things turned bad quickly. Suspect, Curtis Moore, tried to drive away, but Officer Gronewald wasn't having it.
"And [he] lunged into the truck to grab the wanted suspect who then had the truck in gear and was able to push the gas down," said Lt. Mike Merryman, Yakima Police Department.
Speeding towards a yard on South 10th Avenue, Gronewald grabbed the steering wheel to dodge a tree. The whole time the homeowner and her children were inside watching TV, she believes that the porch saved her from what could've been a really nasty accident.
After plowing through a fence the truck landed on one car and smashed into another. Gronewald was knocked unconscious.
"He's are real digger, he's a scrapper and you know he's not going to back down from something like this," said Merryman.
Other officers were able to catch the two suspects who took off on foot, as Gronewald was taken to the hospital. He suffered a concussion and was held overnight.
The homeowner talked Friday, but didn't want to be on camera. She's not sure how they'll pay for all the damage.
"We don't know I called the insurance and they're gonna come and see the house the cars, but they were saying we don't know if the other vehicle is insured or not so we're just going to see what happens," said the homeowner.
Merryman said Gronewald is the kind of officer you want on your crew because of him they caught a bad guy.
"Thank God it wasn't any more serious then that, but you know again it's a dangerous business that we're in and things can change very rapidly," said Merryman.
Gronewald is expected to make a full recovery and Merryman said it won't be long until he's back on duty.