Are school zones making a difference?
Posted:
Updated: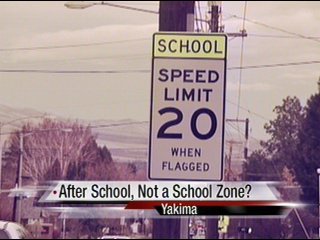 YAKIMA--School zones are meant to keep speeds down and your children safe as they walk to and from school. But, are they doing their job? We checked out two locations with some surprising results.
Everyone has seen the signs and the flashing lights indicating you're in a school zone. The message: slow down.
But, on Tieton Drive near Franklin Middle School, they don't seem to be making a difference, because they're not on right after school.
Someone's not doing their job.
"We have [student] patrolmen," Yakima School District Community Relations Director Mary Beth Wright said. "The first thing they're supposed to do is go out and put their flag in the slot on the signs, and then get to their post."
KNDO staked out the two school zones nearest the middle school earlier this week.
Franklin lets out at 2:30. At about 2:35 on Wednesday, November 18, two blocks from the school, the flags aren't up.
About ten blocks east, another school zone, but the lights aren't on as kids walk through. Not until 3:09, nearly 40 minutes after school ends, do the lights finally start blinking.
The city's traffic department operates the lights, but their resources are limited.
"We rely on the school district to give us those clues of when the kids are in that particular area," Streets and Traffic Operations Manager Joe Rosenlund said.
Then Thursday, November 19, the same thing. No flags were up at 2:35 and the school zone lights were also not working.
Ten minutes later, still nothing. Finally at 3:09 the flashing light comes on. Once it does, only a few stragglers come through. Most are already gone.
"If we can get working with the districts kind of get those hours defined a little better," Rosenlund said.
Wright said several zones may see changes.
The area on 40th Avenue right outside Eisenhower High School is a problem spot, especially during the lunch hour. The city and the school district are discussing activating the school zone speed limit during this time.
Police say they've mentioned the missing flags to district staff before.
Wright tells me the Franklin Middle School staffer responsible for the flags was out with a family issue this week, but she admits, those flags need to be there every day.
"Those are the kinds of thing in our school district from A to Z that we continually reassess."
KNDO will keep following this story, and let you know if the district makes changes.