Working 100-hour weeks to save the Nile Valley
Posted:
Updated: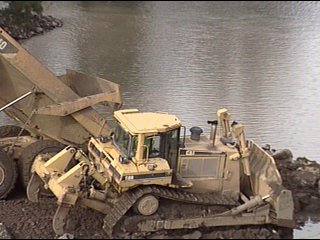 NILE VALLEY--Earlier this week the state Department of Transportation opened an alternate path around the landslide that buried a half-mile stretch of State Route 410. But, for the 40 or so construction workers who built the temporary road, the work is not done yet.
When tons of dirt and gravel fell onto SR-410 early in the morning of October 11, everyone knew there was a lot of work ahead.
The Department of Transportation chose Selland Construction to do most of that work.
They relished a daunting task.
"We were pretty excited," Jason Gaul, Selland's General Manager, said. "We knew we could do it. We had the expertise and the manpower to do it; it was the more the merrier."
You think your 40-hour work week is hard? Try telling that to Brandon St. Clair.
"I think that first week I had 122 hours in six days," St. Clair, who operations a mainline hoe machine, said. "I'm probably pushing close to 550 - 600 hours in just over a month."
All told Selland crews have logged more than 21,000 man-hours moving the slide, building an alternate route, and restoring vehicle access to the Nile Valley.
The road will be paved and finished by Wednesday, but the job won't.
Crews still must clear a larger channel for the Aches River. They're expected to be on site at least for another two weeks.
On the other side of the slide, workers are using these rocks to force the Naches into the new channel.
Most of Selland Construction's employees are from the Wenatchee area, including Gaul. But he's seen much more of the Nile Valley than anywhere else.
"It's been 40 days today [Saturday, November 21] and I've gone home twice."
St. Clair lives in Yakima, but getting up before dawn and not returning home after dinner, he hasn't seen much of his family.
"I had to miss my boy's last two football games, and my daughter's in West Valley Junior High on their drill team. I haven't seen any of that," St. Clair said. "It makes it tough, but they know this is my job and there's a reason that we're out here."
One positive: all those hours St. Clair's put in should make for a pretty nice Christmas.
"I keep hearing, 'I need a new snowmobile, I need this and I need that,'" he said. "I just need sleep!"
St. Clair and the rest of the crew will get some much-deserved time off this week. After finishing paving on Wednesday, workers will get Thursday and Friday off for Thanksgiving. Then they'll be back to work.
The project's coming in pretty much on time, with an expected completion date of December 4. One of the most impressive things considering all the man-hours worked: not a single accident so far.