Sunday a shopping day in downtown Ellensburg
Posted:
Updated: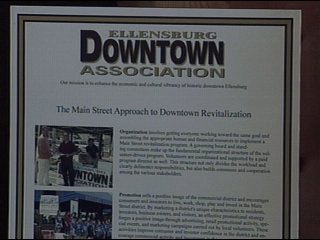 ELLENSBURG--In a six-month span, the number of downtown Ellensburg businesses open on Sundays has doubled, from 23 to 46.
Business owners hope the extra day to shop brings more customers downtown.
Walk through downtown Ellensburg on a Sunday afternoon and you'll see more and more signs saying "We're Open. Come In."
For locals Gordon Crane and Joan CawleyCrane, they're a welcome sight.
"Sometimes, you don't have the time to do things during the local business hours," Gordon Crane said.
"It's difficult," Joan said. "A lot of the places are closed about the time we get home from work."
Gordon and Joan ate at Sazon Restaurant this Sunday, something they couldn't have done just last month.
The restaurant began serving weekend brunch three weeks ago, and they've been packed every day.
Sazon is one of about two dozen businesses to recently add Sunday hours, a boost not just to their bottom line but also to other nearby shops.
"We've seen more people come into the store on Sunday's since more businesses have been opening."
After a neighboring store closed, Schantz saw less people visit Gifts of the Vine.
Now, there's nearly four dozen stores to attract customers.
Schantz thinks she could double or even triple her Sunday sales.
Shopping, dining, you can do it all without leaving downtown Ellensburg.
"They could have brunch, they could do a little Christmas shopping," Heather Horn Johnson, who lives in nearby Kittitas, said. "I think that there's some good opportunities to spend money locally as opposed to online."
"You can park your car and walk or you can ride your bike and walk in Ellensburg," CawleyCrane said. "It is really a great thing."
Owners add the successful Central Washington University football team has brought traffic to their stores.
They hope being open on Sunday convinces fans to stick around well after Saturday's game.