Home Grown Tri-Cities Turkey
Posted:
Updated: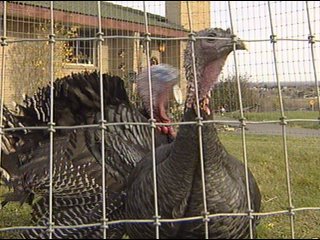 Kennewick, WASH - For the last several years hundreds of families in our area have enjoyed a special kind of food during thanksgiving dinner, a Tri-Cities turkey.
One Kennewick couple raises their own turkeys and keeps their customers coming back for more every year. Dee and Les Chapman started raising turkeys 12 years ago in Kennewick. The first year they raised 25 and gave them out to friends and family. Over time they added more and more and started their own business, Turkey Tail Farms. This thanksgiving they have 400 birds.
"They're fresh, they're local people paying local taxes and I love that," says David Darnell, a repeat customer of Turkey Tail Farms.
According to Dee it's the taste that brings customers back.
"The real secret of it is the free range, they get to range the pasture and exercise. I call them happy turkeys," she says.
Not all of the 400 will be sold this thanksgiving. Different charities around the Tri-Cities will benefit.
"When I pull up to the Union Gospel Mission they all know me because I've been donating for years. I pull up and open my trunk and they're all like, 'the turkey lady is here the turkey lady is here!' It really gives you a warm feeling in your heart because you know, those guys are having a hard time," explains Dee.
Turkey Tail Farms still has a few turkeys left for sale. They can be contacted at 509-586-3052.