Dave Ettl's balancing act, radio host and soon to be council member
Posted:
Updated: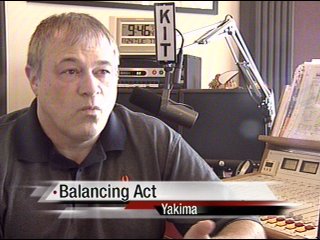 YAKIMA, Wash. -- It's one week until a council member shake-up, Dave Ettl will be sworn in next Tuesday replacing Sonia Rodriguez. Ettl is a talk radio host for KIT radio and soon to be a council member.
Sitting in the KIT studios, Ettl believes he has an advantage. He talks politics for a living and feels he has a knowledge of what's going on in Yakima.
Ettl was recently quoted in the paper about the controversial art piece slated for Front Street.
"Point of clarification if I may...okay I don't consider myself as a council member doing this we ran a poll on KIT," said Ettl.
Ettl said he was relaying information from his listeners, based on the radio poll results Ettl said many people in Yakima are opposed to the modern sculpture.
While the line may be hard to see between Ettl radio host and Ettl council member, Ettl said he will use his radio time to benefit council.
"I do think that being here is a tremendous advantage in terms of getting input from the community to take to the council and to take what the council does and get it back out to the community. I think there's a lot of miscommunication, a lot of opinions are missed," said Ettl.
Likewise Ettl believes the radio time is an opportunity to let the community know what's happening with city council.
"It may provide that little bit of confusion, but it will be upon me to figure out how to let them know which Dave is showing up to make his case, I'll find a way," said Ettl.
We asked Ettl how he'll keep from talking about privileged information on air, like things discussed in executive session. He said years of broadcast experience have shown that he can be tight lipped when he needs to be.
Ettl will be sworn in on Tuesday, December 1st.